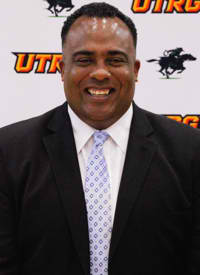 Jai Steadman
Assistant Coach
Former Rio Grande Valley Vipers assistant coach Jai Steadman, who helped coach the Vipers to the 2010 NBA Development League Championship, became an assistant coach for the men's basketball team on Sept. 24, 2014.
Steadman spent three seasons with the Houston Rockets' NBA D-League affiliate, from 2009-12, not only helping the Vipers to their first championship, but a runner-up finish in 2011 as well. He was also an assistant coach for the 2010 NBA D-League All-Star Game, and the NBA D-League Select team during the 2010 NBA Summer League in Las Vegas. His coaching responsibilities included on-floor coaching, individual player development, scouting all upcoming opponents and personnel, and serving as a liaison to the Rockets regarding player development. Additionally, Steadman ran most of the Vipers' youth camps and clinics and was an integral part of the Vipers' community engagement efforts.
Steadman departed the Vipers to become an assistant coach at Bellevue University in 2012-13, where he helped to lead the team to a conference championship and a berth in the NAIA Sweet 16. He spent last season as the head coach at Westwind Preparatory Academy in Phoenix, Ariz.
The Lincoln, Neb.-native graduated from the University of Nebraska, where he began his coaching career as an administrative assistant from 1992-through-1997. While he was there, Nebraska won the 1995 National Invitational Tournament (NIT) and the 1994 Big 8 Tournament while going to the NCAA Tournament in 1992, 1993 and 1994, and making an additional NIT appearance in 1996.
After working for three seasons as an assistant coach at Tyler Junior College, Steadman returned to the NCAA Division I level as an assistant coach at TCU in 2002-03, where he helped to produce the No. 32 ranked recruiting class in the nation.
Steadman spent the next two seasons in professional basketball, first as the head coach of Rander Cimbria in Denmark, where he led the team to their first playoff appearance, and then as an assistant coach with the Michigan Mayhem of the Continental Basketball Association.
Steadman returned to college basketball in 2004-05 as an assistant coach at McNeese State before joining the staff at North Texas the following season. At each stop, Steadman was the recruiting coordinator, helping to produce the No. 64 and No. 29 ranked recruiting classes in the nation, respectively.
Following a stint as an assistant coach with the Fort Worth Flyers of the NBA D-League in 2006-07, Steadman became an assistant coach at Louisiana-Lafayette from 2007-09. While there, he helped to bring in the No. 1 recruiting class in the Sun Belt Conference.
Kenya Crandell
Assistant Coach
Kenya Crandell, who spent the last two seasons as an assistant coach at Montana State and has 19 years of college coaching experience, joined the UTRGV men's basketball program as an assistant coach on April 28, 2016.
While at Montana State, Crandell helped the Bobcats engineer a seven-win improvement from 2014-15 to 2015-16, including a five-win improvement in Big Sky play.
He spent the previous two seasons as the Assistant Director of Basketball Operations at Oregon, where he helped the team to back-to-back NCAA Tournament appearances, including a berth in the Sweet 16 in 2012-13.
Crandell began his coaching career at his alma mater, the University of Nebraska-Kearney (UNK), from 1997-99 as a graduate assistant, before being promoted to full-time assistant for the 1999-00 season. After spending the following season at Northern Colorado, Crandell began a six-year stay at Nebraska-Omaha, serving as associate head coach in 2006-07. He then spent the 2007-08 season as an assistant coach at Sacramento State before serving in the same capacity at Southern Utah for four years.

A Hall of Fame point guard at UNK, the four-year starter set a school record for assists (525) which still stands, and his 1,119 career points was 19th in program history upon his graduation. He was the team MVP as a senior, leading the Lopers to an NCAA Tournament berth.

Crandell starred at Omaha Benson High School as well, leading the Bunnies to the 1992 Nebraska State Class A Championship.

Crandell earned his Bachelor of Arts in Communications Sales from Nebraska-Kearney in 1996 and his Master's in Physical Education – Sports Administration from Nebraska-Kearney in 1999.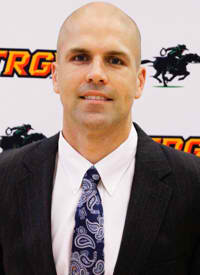 Luke Mackay
Assistant Coach
Luke Mackay, who spent the previous two seasons as a graduate assistant at Oklahoma, joined the UTRGV men's basketball program as an assistant coach on April 11, 2016.
While at Oklahoma, Mackay worked with recently hired UTRGV Men's Basketball Head Coach Lew Hill and former Pan American University head coach and current Oklahoma head coach Lon Kruger, helping them to lead the team to two NCAA Tournament appearances, including a berth in this year's Final Four, while going 53-19 (.736).
Mackay's responsibilities included working with individual student-athletes on skill development, scouting, defensive alertness, preparing recruiting materials, and assisting with recruiting visits.

Prior to joining Oklahoma, Mackay spent four years as the varsity head coach at McCollum High School in San Antonio. During his final season, Mackay simultaneously served as an advance scout for the Orlando Magic.

Originally from Perth, Australia, Mackay is the all-time leading scorer in Western Australian high school basketball history. He played his senior season at North Jackson High School in Alabama, for whom he earned All-State honors. Mackay went on to play at Lon Morris College from 2000-02, earning NJCAA Region 14 All-Tournament First Team honors, before playing two seasons at East Carolina.

Mackay started to gain coaching experience in 1999 as a coach in the Perth Basketball Association, and continued to develop his skills as a basketball camp counselor at East Carolina in 2003 and 2004.

He then became an assistant coach with the Perth Redbacks in 2006-07, a team that he was also playing for.

At the same time, Mackay began spending the academic years in Texas, serving as the boys' basketball coach at Corsicana High School.

Mackay earned his Bachelor of Arts in Physical Education from East Carolina in May 2006 and is in the process of completing his Master of Human Relations at Oklahoma.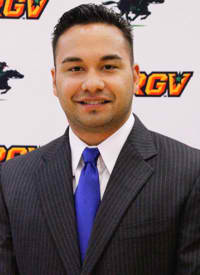 Caleb Villarreal
Special Assistant to the Head Coach/Camp Director
Veterans Memorial High School alum Caleb Villarreal, who spent last two seasons on Doc Sadler's staff at Southern Mississippi, joined UTRGV men's basketball as the special assistant to the head coach on May 2, 2016.

Villarreal served as the graduate assistant in 2014-15 before being promoted to video coordinator in 2015-16. As a graduate assistant, Villarreal helped to develop players on and off the court. After his promotion, Villarreal began assisting the program in all aspects, including scouting, cutting up film, and developing a game plan.
Villarreal spent three seasons as a student manager for Texas Tech. During his time there he worked for three head coaches – Billy Gillispie, Chris Walker and Tubby Smith. He assisted the program with recruiting visits, film and video breakdown, and coordination of office projects.

Villarreal attended Veterans Memorial from 2006-10 and was a two-time All-District 32-4A Second Team selection for the boys basketball team. He was selected as the team captain for each of his final three seasons.

Villarreal earned his Bachelor of Science in Exercise & Sport Sciences from Texas Tech in 2014 and his Master of Science in Sports Management from Southern Mississippi in 2016.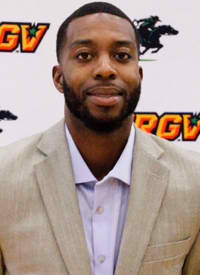 Deleon Hines
Special Assistant to the Head Coach
Deleon Hines, who was the top assistant coach with the Sharyland boys basketball team in 2014-15 and a basketball operations assistant with the Rio Grande Valley Vipers in 2015-16, joined UTRGV as a special assistant to the head coach in July 2016.
During his time with the Vipers, Hines was responsible for player skill development, film analysis, and equipment management. He was also the head coach of the Vipers Select U14 Jr. Academy Team. At Sharyland Pioneer, Hines led practices, scouted opponents, monitored academics, and managed equipment.
A native of Houston, Hines was a two-year captain and a two-time Heartland Conference Champion at Incarnate Word in San Antonio. He began to pursue his basketball career as an assistant coach with Luxembourg Total League Contern after graduating, helping the team to records of 16-13 and 23-6. He returned to Luxembourg to play with BBC Heffingen for the next two seasons, averaging 17 points, six rebounds and five assists per game and winning a league championship in 2013.

Hines graduated from Incarnate Word with a Bachelor of Science in Kinesiology in 2011. He is currently working toward a Master of Administration in Sports Management at Incarnate Word.
Steven Kraus, MS, ATC
Athletic Trainer
Steven Kraus joined UTRGV as an assistant athletic trainer during the summer of 2016. He works primarily with men's basketball and men's and women's golf.

Kraus completed his Master's in Athletic Training at Florida International University (FIU) in May of 2016. While at FIU, he primarily worked with men's basketball while assisting with all other sports.

Kraus completed at internship in St. Georges, Grenada, where he provided athletic training services in a rehabilitation clinic while having the opportunity to work under one of the two orthopedic physicians on the island.

When Kraus returned to the United States, he worked at a local high school, providing coverage for games and practices during the fall of 2015.

During the spring of 2016, Kraus worked at Key Biscayne Physical Therapy, providing treatment and rehabilitation services to patients with a wide variety of orthopedic injuries.

A native of St. Petersburg, Fla., Kraus completed his bachelor's degree in exercise science and psychology at Milligan College, where he play basketball all four years.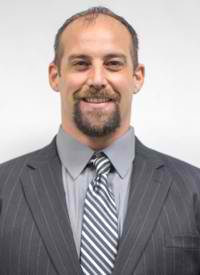 Matt Taylor
Strength & Conditioning Coach
Matt Taylor, who had been with Presbyterian College for the previous four seasons, joined the department as the Strength and Conditioning Coach on August 15, 2013.
This is Taylor's second stint here, as he was the head strength and conditioning coordinator during the 2007-08 academic year.
While at Presbyterian, Taylor single-handedly helped all the Blue Hose teams increase their speed and strength.
Taylor joined Presbyterian after serving a one-year stint with Rice as the assistant coordinator of strength and conditioning. There, he assisted in workouts for the football team. Taylor also designed and implemented the yearly training program for women's basketball, swimming and men's golf.

During his first stretch at UTPA, Taylor was in charge of creating the strength and conditioning programs for all 14 sports. He also managed the budget and purchased equipment while designing and implementing development workouts for all new student-athletes.

In August 2004, Taylor accepted the assistant coach of sport performance position at the University at Buffalo. There, he worked with football, men's basketball, volleyball, wrestling, men's and women's tennis and men's soccer. In addition to his duties, Taylor assisted with all other Olympic sports.

He joined Buffalo after completing an internship at Arizona State, where his main responsibility was working with the football team. Taylor assisted the strength and conditioning coach with workouts, aided in pre and post workouts, assisted in speed training sessions and rehabilitated injured student-athletes.

In 2003, Taylor accepted the graduate assistant strength and conditioning coach position at Gardner-Webb. While working on his master's in sport science and pedagogy, Taylor's duties including working with football, baseball, men's basketball, wrestling, women's soccer and men's and women's tennis and golf. He also assisted with men's soccer, softball, women's basketball and volleyball.

He is a member of the National Strength and Conditioning Association, United States Powerlifting Federation and American Powerlifting Federation. Taylor has presented at the University of Buffalo Wrestling Coaches Clinic.

Taylor earned his bachelor's degree in physical education, health and secondary education from Mount Union while helping to lead the football team to four-straight NCAA Championships.

Taylor, his wife, Gina, and their daughter, Madison, reside in McAllen.